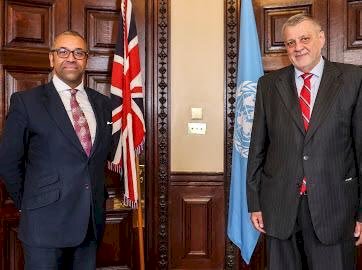 Libya
Cleverly: Withdrawal Mercenaries Is A Condition For Achieving Stability In Libya
AAC News – Follow-up
James Cleverly, Minister for Middle East Affairs, met with the UN Special Envoy to Libya Jan Kubis, on Monday, to discuss the latest developments in Libya.
The British Foreign Office stated in a tweet that the British minister provided Jan Kubis Britain's support to gain stability in Libya.
The ministry confirmed that Cleverly renewed his support for the efforts of the United Nations Mission to achieve stability in Libya and move forward with the agreed road map regarding the political situation.
He stressed also the necessity of holding elections on December 24, and the exit of all foreign fighters and mercenaries, to achieve long-term peace and stability in the country.