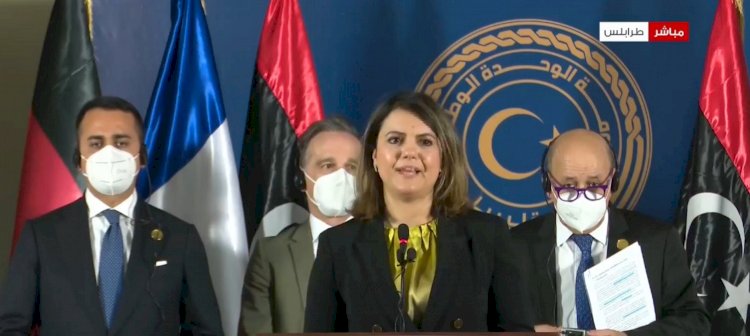 AAC NEW – FOLLOW-UPS
The Libyan Foreign Minister, Najla Al-Mangoush, reiterated that she and the French, German and Italian counterparts assure the necessity to withdraw all foreign elements and mercenaries from Libya.
Al-Mangoush's statements were in a press conference in Tripoli with the German Foreign Minister, Heiko Maas, Italian Foreign Minister Luigi Di Maio, and the French Foreign Minister, Jean-Yves Le Drian.
The European Foreign Ministers met with Al-Mangoush after they had arrived in Tripoli on Thursday to support the Government of National Unity as it leads Libya toward the elections in December.
The French Foreign Minister said that Paris urges for the departure of all mercenaries from Libya, calling for the reopening of the coastal road that connects east and west Libya.
In the meantime, the German Foreign Minister pointed out that the foreign mercenaries' withdrawal from Libya is the main reason for Libya to move into general elections next December, adding that the European Union will continue to observe the operation of the ceasefire in Libya.