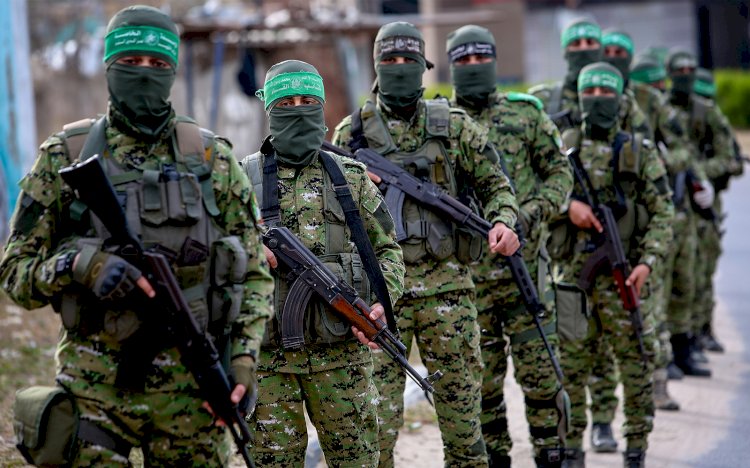 Libya
Islamist Terrorist Militias of Libya Support Hamas Movement
AAC NEWS
A report has published by UK's Sunday Times reveals Hamas smuggling of arms from Libya to Gaza
The Sunday Times has distributed documents confirm that Hamas used the turmoil of Libya from 2011 to set up an arms-smuggling group to "funnel anti-aircraft and anti-tank missiles to Gaza".
"The group was given the job of diverting arms intended for Libyan battlefields through Egypt and used middlemen and Hamas militants in Turkey and Qatar to circumvent an Israeli blockade on Gaza." (The Sunday Times)
The Sunday Times report by Samer al-Atrush said that Hamas wanted to exploit the lack of security in Libya to set up an arms-smuggling group in order to funnel anti-aircraft and anti-tank missiles to Gaza. The group was set up by Marwan al-Ashqar, the Hamas envoy to Libya.
FROM LIBYA TO GAZA VIA TURKEY AND QATAR
"The group was given the job of diverting arms intended for Libyan battlefields through Egypt and used middlemen and Hamas militants in Turkey and Qatar to circumvent an Israeli blockade on Gaza," said the report.
It also pointed out that requests from the Hamas leadership would arrive in encrypted emails that used codewords for weapons, according to judicial files. A "jacuzzi", for example, meant a heat-seeking missile, and "elephant hunting" referred to the destruction of tanks with missiles. Ashqar would reply using messages inserted into the text of ebooks, which were then encrypted and emailed to his superiors, according to the Sunday Times report.
The report also confirmed that Ashqar, who was never officially recognized by the Libyan authorities as an envoy, was arrested along with three other Palestinians in 2017 after interior ministry forces had grown suspicious of the armed men who would frequent the offices of his business in Tripoli. The men were found guilty in a Libyan court two years later of smuggling and possessing weapons and were sentenced to ten years in prison. Hamas denies the allegations against the group.
"According to the judicial records, seen by The Sunday Times, Ashqar confessed to having been ordered to procure weapons for Hamas leaders at a 2011 meeting in Gaza attended by the group's leaders including Ismail Haniyeh." The report added, "He was provided with a Palestinian diplomatic passport to ease his task."
Furthermore, Ashqar confessed that he had gathered and sent guns and explosive material through smugglers in Egypt, who then ferried them to Gaza.
SEEKING MISSILES
The report stated that when it came to procuring more "sophisticated equipment" for Hamas, such as "American anti-aircraft Stinger missiles and Russian anti-tank Kornets", that Ashgar enlisted the help of Allam Bilal, a senior Hamas military man. Bilal divided his time between Qatar and Turkey and was said to be responsible for regional procurement efforts.
Bilal is alleged to have set up a meeting in 2013 with an arms dealer in Turkey named Abu Mohammed who found them a supplier in Serbia but the deal eventually fell through, according to Ashqar's testimony. It was not clear whether Hamas managed to acquire the missiles after this attempt.
The Sunday Times concluded its report by pointing out that Hamas was seeking to exploit the chaos of the post-Gaddafi years in Libya. It said Ashqar "initially operated from the east, where jihadists had taken over two cities [Benghazi and Derna]," moving to Tripoli after the terrorists suffered defeat by the Libyan National Army (LNA). The report said his request to establish a Hamas office was never granted by the Libyan authorities.
According to the investigation by AlMarsad, Ashgar has moved from Benghazi first to Misrata and then to Tripoli where he was eventually caught.
Marwan al-Ashqar"s passport copy.
BELHAJ, ENNAHDA AND HAMAS
There was a report in January 2019 that evidence has been presented to the head of investigations at the Attorney General's office, Sadiq Assour, of Belhaj's presence in meetings with the head of Hamas in Libya in which secret shipments of weapons to Gaza and to militants in Egypt's Sinai province were organized.
The evidence showed that the head of Libya's Justice and Reconstruction Party, Mohamed Sawan, as well as leading figures from Tunisia's Ennahda party, were also party to the Hamas discussions.
It was initially reported that that the arrest warrant for Belhaj and five other Libyans, among them oil blockader Ibrahim Jadhran, was connected to attacks in Libya carried out by Sudanese and Chadian fighters operating in the country. Thirty-one of them were also named in the arrest warrant. Responding to it, Belhaj denied any involvement with Sudanese and Chadian fighters. But it soon emerged that the case against Belhaj (case no 65/17) was related mainly to his involvement with Hamas.
Marwan al-Ashqar was arrested early last year in Tripoli along with three other members of the cell and they are being held at the Mitiga airbase prison by the RADA force. The evidence against Belhaj comes from files on Ashqar's computer. These include minutes of meetings with Belhaj, Sawan, and Ennahda figures, correspondence and other documents, voice recordings and video clips as well as details of arms' purchases including methods of funding, plus details on shipments. Other evidence includes lists of names, communication codes, and training videos.
Together it provides powerful evidence of Hamas' hidden infiltration of post-2011 Libyan revolutionary structures and its links with key Libyan organizations and individuals, notably the leaders of Libyan Islamic Fighting Group (LIFG), the Libyan branch of the Muslim Brotherhood, and the Justice and Reconstruction Party as well as with Rachid Ghannouchi's Ennahda in Tunisia. There are details of meetings at the Justice and Reconstruction Party's offices in Tripoli.
The computer files also provided evidence of direct coordination between the Hamas cell and the leaders of Al-Qaeda and Ansar al-Sharia in Libya. There are details of support for the terrorist groups that operated in Benghazi and Derna, including the provision of instructors from Gaza on combat training and bomb-making skills, and coordination with the now-dead Wissam Ben Hamid and Mansour Al-Faydi as well as with Ziyad Belam and other leaders of the so-called Revolutionary Shura Council