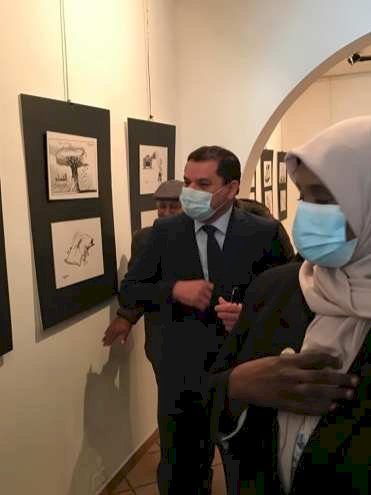 Libya
Photos: Dbaiba visits the Tripoli Art House
AAC NEW – FOLLOW-UPS
Today (Sunday), the architect Abdel Hamid Al-Dbaiba, the head of the Government of National Unity, visited the Art House building in the capital Tripoli. The visit was undertaken in response to requests from artists and intellectuals to open an art gallery of the Al-Ajili Al-Abedi artist.
In this regard, a statement issued by the Ministry of Culture's Information Office said that the Minister of Culture Mabrouka Oki was with the minister during the visit. Her visit was undertaken in response to several appeals. Thus, both of them met with many activists, writers, and intellectuals.
The statement added that they discussed the history of the Art House and the scale of its contribution to strengthening Libya's cultural and artistic role through its contribution of more than 600 local and international exhibitions, which in turn had drawn the attention of international and local organizations and bodies.