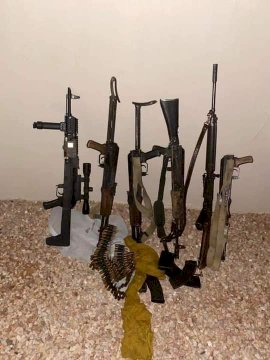 AAC NEWS FOLLOW-UPS
Photos: What Did Storm And 116th Battalions Find In ISIS Den?
Two Storm Battalions belonging to the General Command of the Libyan National Armed Forces raided an ISIS terrorist den in Ubari city at dawn time. The raid was a result of the terrorist attack that was about to be carried out by ISIS in the south of Libya.
The forces were able to catch 3 people during the raid (two men and one woman) and detonated an ammunition store at the targeted location.
The forces seized a large number of weapons, ammunition, and automatic rifles with the organizers, who intended to carry out operations against civilians in the area. Also, they wanted to exploit the desert of the Libyan south in re-organizing ISIS again in the country.